General organisation of the expeditions

Each expedition is thoroughly prepared.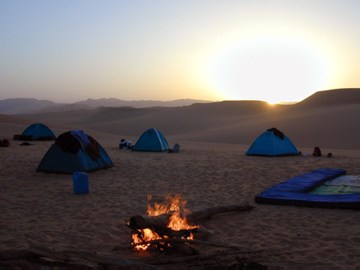 For each tour :
your guides and cooks will handle all supply and logistics details.
Guides see to that vehicles run well and get refuelled.
Cooks prepare food, which is healthy and abundant. They make sure there is drinkable water, plus water from the wells for washing. A "dining-room" is created for every meal. Two campfires are lighted at night : one for cooking, the other one for the campers to enjoy evenings.
To sleep, comfortable mattresses are provided to everybody. You may also have tents on demand.
On the right, a sun-rising above the Ténéré.
If you choose a 4WD tour:
Travelling distance is approximately 200 km per day. Vehicles, each with four fee-paying passengers, will stop whenever there is a tourist or cultural attraction or a beautiful sight.
We use Toyota Landcruisers able to go through the rocky tracks of the Aïr as well as the sandy dunes of Ténéré.
If you choose a foot or camel trek :
A 4WD will drop you to the departure of your expedition. Packcamels carry your luggage, water, food and mattresses. Distances travelled each day by the caravan is between 10 and 25 km, depending on what you are looking for, be it on foot or on camel. A 4WD will pick you up when your expedition is over and take you back to Agadez.
Furthermore, Dunes-Voyages can take you fully in charge from your arrival in Niger, either if you take a regular flight to Niamey or the direct charter between France and Agadez (from Paris or from Marseilles).
Airlines flying to Niamey : Air France, Air Afrique, Air Algérie, Air Maroc, Ethiopian Airlines. A charter is scheduled soon ; check out the site for news about this.