Beyond this immensity Aïr mountains have very contrasted colours. Marble mountains, blue or white, are seen along the way, sometimes as if they were surging out of dunes.
When reaching the Tezizek well, hills around the wadi are covered with paintings showing vanished species.
The arrival in this oasis is spectacular : in a few meters, one goes from an arid universe to a green valley.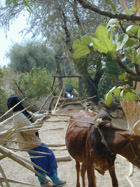 Timia oasis is surrounded by granite mountains where monkeys live. It is a genuine paradise, kept cool by gardens irrigated through a centuries-old wooden pulley system under palm trees. Tuareg farmers from the Kel-Oui grow there all sorts of cereals and of vegetables, and fruit trees develop in the shade of the gardens. One can even find grapes. Aïr mountains are a variety of arid and rocky spaces, green wadis, flourished gardens, and volcanic peaks erected against the sky as if to show us the way.